SEEKING ADVICE - LARA WILL NOT MOVE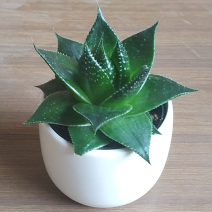 Lara will not come inside. I can't believe this. I think she's rebelling.
Take a look at what she wanted for her birthday. I'm at the end of my rope with this young lady.
Unbecoming behaviour that I will no longer tolerate:
Ignoring me!
Wiltering!
Not cleaning up after herself!
Hanging around those terrible influences, Basil and Coriander!
Midnight raves!!!
Therefore, I have found it necessary to keep a record of the punishments I am implementing to try and keep her in check. I have tried a combination of many punishments, which I hope will be of use to my fellow succulent owners. Any parenting suggestions would be appreciated, I'll keep updating the list.
| | | | | | | | | |
| --- | --- | --- | --- | --- | --- | --- | --- | --- |
| | Silent Treatment | Starvation | Tickling | Time Out Corner | One Punch | Two Punches | Waterboarding | Yelling |
| No Other Punishment | No Effect >:[ | No Effect >:[ | No Effect >:[ | No Effect >:[ | No Effect >:[ | No Effect >:[ | No Effect >:[ | No Effect >:[ |
| Poking | No Effect >:[ | No Effect >:[ | No Effect >:[ | No Effect >:[ | No Effect >:[ | No Effect >:[ | No Effect >:[ | No Effect >:[ |
| Ripping Off A Limb | No Effect >:[ | No Effect >:[ | No Effect >:[ | No Effect >:[ | No Effect >:[ | No Effect >:[ | No Effect >:[ | No Effect >:[ |
| Confiscating iPhone | No Effect >:[ | No Effect >:[ | No Effect >:[ | No Effect >:[ | No Effect >:[ | No Effect >:[ | No Effect >:[ | No Effect >:[ |
| Throwing Off The Balcony | No Effect >:[ | No Effect >:[ | No Effect >:[ | No Effect >:[ | No Effect >:[ | No Effect >:[ | No Effect >:[ | No Effect >:[ |
| Boarding School | No Effect >:[ | No Effect >:[ | No Effect >:[ | No Effect >:[ | No Effect >:[ | No Effect >:[ | No Effect >:[ | No Effect >:[ |
| Killing A Friend | No Effect >:[ | No Effect >:[ | No Effect >:[ | No Effect >:[ | No Effect >:[ | No Effect >:[ | No Effect >:[ | No Effect >:[ |
| Disconnecting Wifi | No Effect >:[ | No Effect >:[ | No Effect >:[ | No Effect >:[ | No Effect >:[ | No Effect >:[ | No Effect >:[ | No Effect >:[ |
| Feeding Tomato Sauce | No Effect >:[ | No Effect >:[ | No Effect >:[ | No Effect >:[ | No Effect >:[ | No Effect >:[ | No Effect >:[ | No Effect >:[ |
| Chores | No Effect >:[ | No Effect >:[ | No Effect >:[ | No Effect >:[ | No Effect >:[ | No Effect >:[ | No Effect >:[ | No Effect >:[ |
| Early Bedtime | No Effect >:[ | No Effect >:[ | No Effect >:[ | No Effect >:[ | No Effect >:[ | No Effect >:[ | No Effect >:[ | No Effect >:[ |
| Iron Maiden (10 Minutes) | No Effect >:[ | No Effect >:[ | No Effect >:[ | No Effect >:[ | No Effect >:[ | No Effect >:[ | No Effect >:[ | No Effect >:[ |
| Iron Maiden (2 Days) | No Effect >:[ | No Effect >:[ | No Effect >:[ | No Effect >:[ | No Effect >:[ | No Effect >:[ | No Effect >:[ | No Effect >:[ |
| Spanking | No Effect >:[ | No Effect >:[ | No Effect >:[ | No Effect >:[ | No Effect >:[ | No Effect >:[ | No Effect >:[ | No Effect >:[ |
| No Lift to School | No Effect >:[ | No Effect >:[ | No Effect >:[ | No Effect >:[ | No Effect >:[ | No Effect >:[ | No Effect >:[ | No Effect >:[ |
| Grounding | No Effect >:[ | No Effect >:[ | No Effect >:[ | No Effect >:[ | No Effect >:[ | No Effect >:[ | No Effect >:[ | No Effect >:[ |
| Making her work at McDonald's | No Effect >:[ | No Effect >:[ | No Effect >:[ | No Effect >:[ | No Effect >:[ | No Effect >:[ | No Effect >:[ | No Effect >:[ |